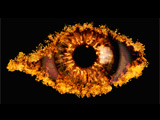 So last year I was an adult. I was a grown up. OK so I hadn't quite reached the pipe and slippers stage but I felt a better person, more educated, more rounded, more sophisticated and just generally a better person. Jump forward twelve months and just three lackluster days into our new decade and I'm ashamed to say I've slipped back into my old ways. Yes that's right I sat up.. Curtains closed, phone disconnected and lights off so as not to attract the attention of the neighbors I sat and pressed 4 on my remote and was transformed back into the world of Celebrity (oh sorry) "Celebrity" Big Brother. As I said in 2009 I was a rounded sensible young man who successfully avoided every cringe worthy and instantly forgettable moment of the series so why in this new decade had I turned it back on?
It could be a morbid fascination, I could be my amazing lack of will power which I had already demonstrated over Christmas by virtually inhaling an entire chocolate Snowman in one sitting or maybe it was just because there was nothing else on to tempt me away.
The series has been revamped a bit and whilst its an obvious attempt by those in charge to update the format giving each contestant their own theme music as they made their over dramatic entrance ruined the Big Brother ambience as we lost the Panto style boos that the series has become famous for. Also the house which we've become so familiar with has been (for the lack of a more eloquent description) been "tarted up" this year making it feel more like a high class spa than the "Hellish" Big Brother house we're supposed to see our Celebrities (damn it!!) "Celebrities" inhabit.
First up was Stephen Baldwin who has become a bit like reality TV's answer to an unwanted pimple popping up everywhere but never wanted! He has appeared in the American versions of Celebrity Apprentice, The Mole and the recent American remake of I'm a Celebrity Get Me Out of Here. Big Brother completes the set I guess. Maybe he gets a free t-shirt or something now he's done them all.
Next up an instantly forgettable Page 3 model who is likely to live up to expectations. Followed by Alex Reid which is not as bad as having Katie Price in the house but nearly. Next into the fray or "fraying pan" (see what I did there?) was Stephanie Beacham who was someone who the parents knew instantly but I sat unaffected. Its early stages but if its possible to predict I would hope Ms Beacham could bring a possible touch of class to proceedings possibly.. Is that possible? Have the words Big Brother and touch of class ever sat beside each other before? I'm asking all the big questions here.
At this point I have confess something. As Stephanie entered the house I peered at my clock which sits looming above the Television and realized were only 18 minutes in. I contemplated switching off. I contemplated playing DJ Hero on my WII. I contemplated reading a book but I decided I'd write this review so had to see it through. So as you read this remember this man has suffered for his art as my DJ Hero turntable sat cold in the corner.
So with that behind me I hit the play button again caught Lady Sovereign making her irritating entrance. I am the only one who presses the red button on the remote repeatedly just to double check it can't attack people within the TV? Annoyingly I am familiar with Lady Sovereign but I dislike her with a passion. As I started back at my lifeless DJ Hero console and dusty book shelves I realized the producers and press had fooled this chump yet again. They had promised infamous and bigger names this time round. This is the final series after all but no how could I be so deluded of course they were Z listers. With the possible exception of Stephanie (I'm a bit worried I have a spot for a 62 year old but we'll move on) My suspicions were completely confirmed by the arrival of Sisqo who's only claim to any sort of fame within the music industry is a song from 10 years ago about a thong. For those of us who had blocked out that summer he proceeded to oddly perform the song live. This is Big Brother right?
Big Brother can sometimes be quite educational who knew Another Level had seven top ten hits. I can only remember Freak Me and Be Alone No More and I'm quite ashamed I know them!. Mr. Bowers being in there with Alex Reid could be interesting but its still treading a dangerous line that could turn it quickly into yet another Katie Price car crash!
Next up Heidi Fleiss who could prove interesting as she's been seen embarrassing herself numerous times on Reality TV and has just had a stint in that ole so treasured Celebrity Rehab. Also working in her favour is that the fact that she has absolutely no connection to Katie Price!! Katie Price and Heidi Fleiss oh lord their names rhyme! This is one big conspiracy!!!!!
Vinnie Jones is possibly the most recognizable and well known face but we're still not talking much better than Y list are we. My prediction (and these are always wrong so ignore the following sentence and perhaps check your email) but Vinnie Jones could be a possible winner. Mind you in a series that has seen Urika Johnson take the crown your guess is as good as mine. So after an hour I'll never get back am I going to be watching the remaining 26 days? Errm… The adult me says no but he often takes a leave of absence at 10pm at night so ask me again in 25 days. As always I am completely uninspired by our housemates and let down again by the lack of any true well known faces but as long as there are some fights and with the possibility of a murder maybe I'll keep tuning in.