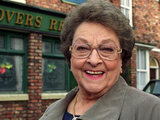 Copyright: ITV/Rex Features
R.I.P BETTY DRIVER: 1920 – 2011
Younger Corrie viewers will think of Betty as being a game old bird, famous for hot pot and a twin set and pearls, but what of her past, before the cobbles?
I was very saddened to hear that Betty Driver of Coronation Street has passed away. What made it sadder was that it was Anthony Cotton, who plays Sean Tully, who broke the news to me. Via Twitter, of course.
"Today is a very sad day. I am devastated. We've lost our Betty. She was one of the funniest people I've ever met and definitely the kindest."
"I will miss her so much. Her star shone bright and long. Sweet dreams, Duck."
So what about Betty's life before Coronation Street? What of the real lady? A staunch vegetarian with an aversion to cookery, Betty couldn't have been much more different to her character.
At 49, when Betty joined the Rovers Return as barmaid after having originally auditioned for Hilda Ogden, Betty had just come out of early retirement. There wasn't a section of show business Betty hadn't had a hand in, from TV to Radio via Films, Betty'd had it all. But hers was far from a life of happiness.
Betty had a sad childhood, her mother living vicariously through her daughter's fame, her interest in Betty only piqued when Betty, seemingly the original Little Voice, made waves with her star quality and amazing vocal talent.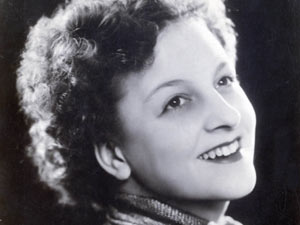 Copyright: ITV
Betty's mother took her to all the talent contests around Manchester and Betty won them all. As a precocious 14 year old, Betty released 'Jubilee Baby', a chart hit that was followed up by 'The Sailor with the Baby Blue Eyes'. Her musical career took her to Australia where she was a star of a radio show and that took her on tour to Cyprus and the Middle East. On returning to the UK she went on to tread the boards and starred in 'Love on the Dole' with James Bolam of Likely Lads and New Tricks fame.
After finally escaping her mother's clutches, Betty married, in defiance. Yet again, life wasn't to be kind to Betty as her marriage to South African singer Wally Peterson soon failed, due to his philandering.
Betty was recognised by the Queen in the Millennium awards list & given an MBE in 1999. Betty was applauded for her contribution to the world of Soap by the British Soap Awards in 2010, where she was presented with a Lifetime Achievement Award.
Deciding never to retire, Betty died on the 15th October, 2011, leaving behind a cast of characters and millions of loyal viewers to mourn her passing. Monday's (17th Oct) episodes were dedicated to her and there was a special tribute programme aired on ITV in between the show's two showings. It was watched by 4.2 million people – a send off worthy of the legend that was Betty.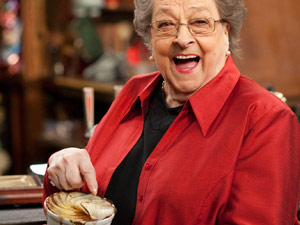 Copyright: ITV/Rex Features