Want a trip into one of the Four Rooms?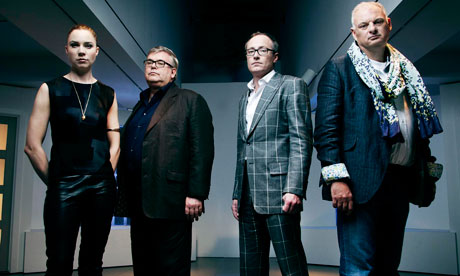 Four Rooms: image credit Channel 4/Guardian
L to R: Emma, Gordon, Andrew & Jeff
Four Rooms, the best type of antiquities and curiosities show since, well, since Four Rooms, is back soon and is looking for oddities to go through each room in an attempt to get their experts to make an offer.
If you haven't seen Four Rooms before, it's well worth a watch, sometimes only to wonder at the foolish owners of the bizarre and the disgusting try to get a few more pennies out of the disgruntled presenters.
The format
There are four rooms, each containing a grumpy antiques dealer looking for a bargain. Once you've left a room and declined the offer from the dealer, you can't go back. There's no way of knowing who is going to offer you the best deal. Four Rooms, as an experiment in game theory, is an excellent example of how not to haggle and in setting a realistic target price before you go in. The real delight is watching a deluded owner go through all the rooms after an inflated price to suit their massive ego and leave without any deal at all.
Who are they?
Picked due to their interest in the weird and wonderful, Four Rooms features four luminaries of the antique dealing world.
Jeff Salmon
The infamous Jeff, my favourite, known for his flamboyant scarves, is the most irritable of them all and doesn't take any prisoners in his approach to those after a price to suit them and not him. He's irascible and he knows a bargain when he negotiates it.
Purchase record: 7 items, including some Christmas Cards from Diana
Read more about Jeff here or follow him on Twitter
Emma Hawkins
The token female of the group, Emma is gothic drama personified. She's got an astute eye for the odd and whimsical and doesn't give in to her emotions when she likes a piece.
Purchase record: 6 items, including a dinosaur egg.
Read more about Emma here or follow her on Twitter
Andrew Lamberty
Known for buying the Concorde nose piece on the first series (episode 2) for £55,000, Andrew has a nose for a good deal and a taste for the unconventional, controversial pieces, like the Hitler head he also bought. He says he knows instantly when he wants something but he doesn't show it.
Purchase record: 4 items – the least of all! Picky or just clever with his choices?
Read more about Andrew here or follow him on Twitter
Gordon Watson
Former Sotheby's auctioneer Gordon was very young when he decided to get into the antiques business. He's certainly got a flair for the industry, selling to celebs such as Barbara Streisand & Mick Jagger. Gordon was recently invited back to Sotheby's thirty years after he left as a consultant after selling his business.
Purchase record: 7 items – tied with Jeff. Best item – mummified mermaid.
Read more about Gordon here or follow him on Twitter
"Still to come on FOUR ROOMS" ad nauseum

Image credit: asianimage.co.uk
Why should you watch it?
If you're interested in drama and conflict, mixed with some game-show tension and antiques, you're on to a winner.
Why shouldn't you watch it?
If you don't like being told what's coming up next constantly and having the show's concept explained to you by host Anita Rani every time there's a break; a caveat annoyance explained hilariously well by the Letters To TV blog
Apply now to be on the series and tell them we sent you!